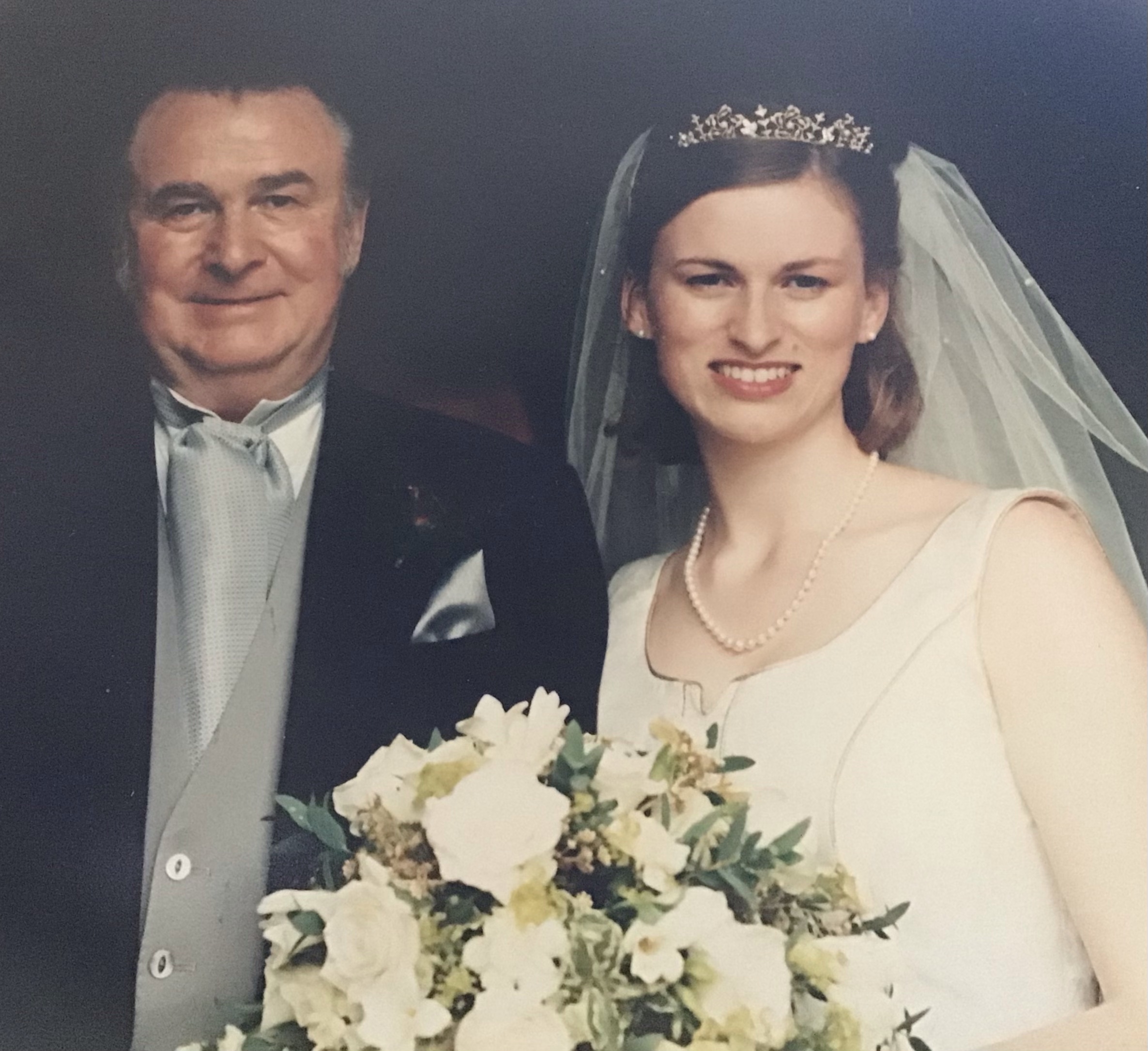 Three weeks ago we heard the terrible news that my dad had suddenly died of a heart attack. My mind whirled as I struggled to process the news. I haven't written for several weeks, as I have been working through the reality of what has just happened and I was also preparing my heart for the funeral. Today we said goodbye to dad, goodbye to grandad. It was sad on the one hand, but seeing family was wonderful and knowing my dad is at rest with his Saviour has given me immense peace.
I was asked to deliver, at the funeral, a personal reflection about Dad. I have included it here, in its fullness, I had to condense it slightly for the occasion.
Dad, Grandad, Uncle, Paul, we all had our names for one of life's treasures, but I grew up calling him my dabby. He had such an amazing memory, and he never let me forget that I once sent him a card with the ds in the middle of daddy turned around to make bs and thus the name dabby stuck. It's his extraordinary memory that strikes me as being one of his greatest gifts. There was nothing he didn't seem to remember and then share with us. It's been relatively easy for me to recollect stories of Dad's life, as they were often shared with us around the dinner table, never failing to draw a smile, or stir up emotions from the past.
Dad's earliest memories, that he shared with us, were of the happiest of childhoods. He was blessed to grow up in a home where he was very loved and introduced to church life from an early age. The hymns we chose today were ones he grew up with, singing in the church choir. He used to tell me how he earned pocket money from singing at weddings. It might not have been for the holiest of reasons, but due to his great memory he learnt many hymns, prayers and Bible passages during this time, and they stayed with him, returning to his mind shortly before his passing, but more about that in a minute. His parents, grandmother and godmother Freda doted on him, as an only child, and gave him the opportunity to be himself and they loved him for all his exuberance and mischievousness. He climbed trees, often with his cousin, my Uncle Derek and came home to warm buttered bread, there was no better start.
Dad sadly lost his mother when he was 12 and that broke his heart and in some ways caused him to question his faith, as he and his father had prayed in church for her healing. He just couldn't understand why God hadn't answered his prayer, but he had answered, he'd chosen to say no, for God had a better plan, as he always does. Dad's grandma filled the place of mother and he was very, very close to her. His father continued to take good care of him and when one day, as a teenager, he went for an adventurous bike ride from Wednesfield to Stratford and found himself too tired to return, his reliable father drove the distance to go and collect him.
In his 20s both his grandma and his father died, but by then he'd met mum and was beginning to make his own family. His first foray into childcare was with his niece Joanne, who spent many weekends with Mum and Dad. She was obviously a delight to look after as he went onto to have the 3 of us. I remember he would fondly call her Joanne Francis Amelia Ramsbottom, that was typical of Dad as he always had at least one nickname for each one of us. We were all very blessed to grow up with him and he loved us very much. He played with us, swam with us, took us for long walks, although rather like his bike ride to Stratford, he didn't always calculate the need for a return journey. I remember one time he told me we walked 8 miles to Alton Towers at which point he realised my 2 year old legs would not make the return journey and so mum was called to collect us.
Mum and Dad, what can I say? They were mad about each other, and often at each other, but theirs was a marriage of true love. They went through much together, they loved to travel and Dad told me many stories of their trips to Yugoslavia in the days when you had to queue for hours to get through the border. Whilst waiting one time they even fried an egg on a wall it was so hot! Dad also loved boats and jet skis and every holiday we would hire them, sadly he seemed determined to sink them though and on more than one occasion we found ourselves bailing out water in an attempt to stay afloat!
Dad was full of fun and many nights were spent over karaoke, and of course he always sang 'My Way'. He has passed on his love and talent for music to Rebecca and to her children. My lack of tune often reminds me that I missed that particular gene! His second daughter Emma's vaccine damage at 11 months was one of the most painful things mum and dad ever went through, the pain and the extraordinary work that it took to care for Emma changed the shape of their marriage, but they were a team and they stuck together. Dad was determined that marriage was for life and even when they had their struggles Dad's stubborn determination that a family stays together, held them together, until that day, that day I will never forget, that day when God called mum home. 30 years ago Paul and Chris were separated by death, but now they are together once again.
God didn't give up on Dad though, he had a plan and it continued to unfold. Wendy was God's gift to Dad, Wendy came into Dad's life when he most needed loving, and she has done that in abundance. Thank you Wendy for loving our Dad, our stubborn but wonderful father, and for giving him so many many happy years.
His later years have been filled with time with Wendy, his garden, his dogs, Holly and then Jenny and of course work. Dad was always an amazing salesman and could have sold snow to an Eskimo! He also had the gift of the gab and kept every telephone contact he ever had in his memory. He worked until just 2 years ago, all be it at the slower pace of working from home. He perfected home working long before lockdowns were even thought of. He managed to combine gardening and working in perfect harmony, for him it was a great balance.
Over the last 19 years he has also loved getting to know his grandchildren. What a legacy he leaves behind. 3 children and now 12 grandchildren are all here because of him, because Dad chose love.
Now it is love that has carried him home. In his last few weeks Wendy shared that Dad talked of little but religion. Now Dad could be quite obsessive, but what an obsession to get just before you meet Christ! God's timing was perfect, he knew Dad would soon move on to the next life and he was preparing his soul. In his last days, despite having no idea that death was round the corner, he constantly sang 'Abide with Me'. The words to the song were almost a prayer ringing out from his soul, 'In life and death O Lord, abide with me.'
Dabby, Paul, we miss him so much and he leaves behind a hole in our hearts, but he is free now, his feet don't hurt and he can run again, even better than he did as a teenager in the regional cross country. Dad often reminded me than in our Father's house are many mansions and that there is a room there prepared for each of us. His Heavenly Father has called him to that home now, I couldn't ask for anything better for him, a wonderful end to a wonderful life.